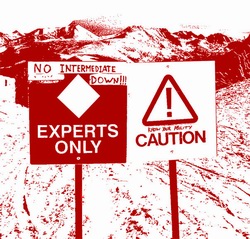 With over 20 years experience in web design and identity development, we are committed to maintaining meaningful relationships with our clients. Just as no two snowflakes are the same, all of our clients are unique and we believe that a firm understanding of each client's business is the foundation for creating a successful online strategy.
"Never measure the height of a mountain
until you have reached the top.
Then you will see how low it was."
Our creative team boasts expertise not only in web site design and graphic design, but also in programming and search engine marketing. Years of industry experience have given our team of professionals the knowledge and foresight to approach problems in the most efficient manner, creating solutions with the strength to succeed on all levels and the flexibility to grow along with your business. The best way to demonstrate our expertise and range of design styles is to view our Featured Sites.
All of the sites we design are coded with valid CSS and XHTML. This ensures your website will load faster, be understood by search engine spiders, work in all browsers, and be easy to alter.
Our clients range from small businesses, large corporations, non-profit organizations, law firms, artists, realtors and everyone in between. We are a "One-Stop Creative Shop" with a broad range of service solutions, including domain name registration, site hosting, high quality site design, technical consulting, custom programming, content management systems, search engine optimization and online marketing, merchant accounts, ssl certifications, logos, print, brochures and more.
We've helped numerous businesses from coast to coast start their online business. We would love to help yours. Contact us any time to see how we can guide your dotcom to the summit of the online world.
ex· pe· ri· ence | ik-'spir-ē-en(t)s
1a: direct observation of or participation in events as a basis of knowledge
1b: the fact or state of having been affected by or gained knowledge through direct observation or participation
2a: practical knowledge, skill, or practice derived from direct observation of or participation in events or in a particular activity
2b: the length of such participation <has 20 years' experience in the job>
3a: the conscious events that make up an individual life
3b: the events that make up the conscious past of a community or nation or humankind generally
4: something personally encountered, undergone, or lived through
5: the act or process of directly perceiving events or reality
6: web design firm northern pride llc of new jersey